Descripción
Roma 96DC+
25W Pure A Class Integrated Stereo Amplifier with Digital Inputs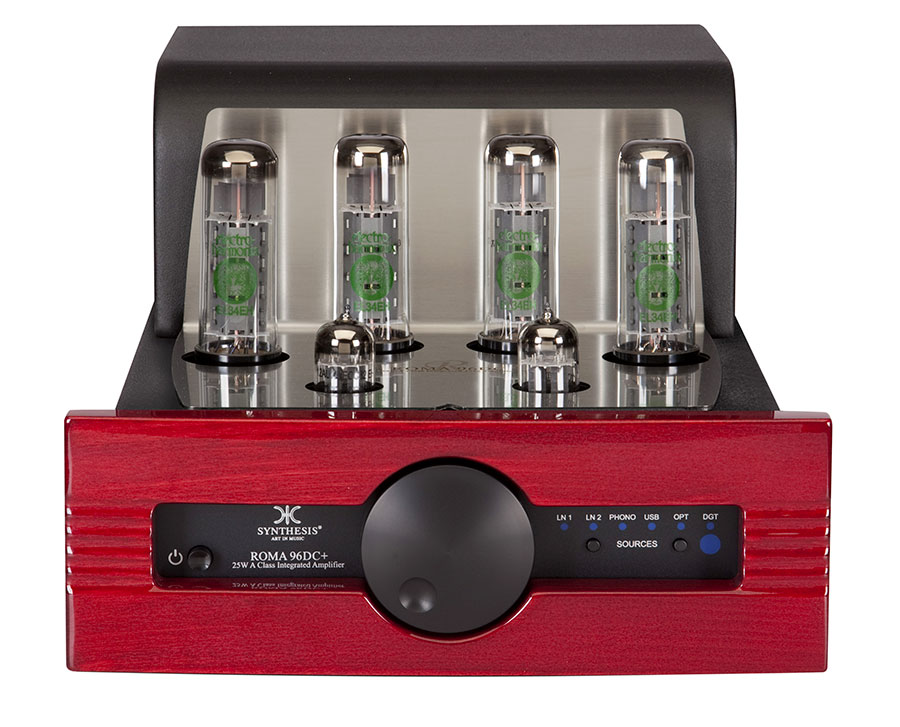 These things of beauty are not arrived at by accident, all of thier flowing features are bound by the one outcome our design. This unique conbination of materials both natural and manmade are brought together not just as a product, but as something to be treasured. This interpretation of hand crafted disign is achieved in a way only the Italians sense of flair and taste knows how to give. Our technology is designed to innovate and yet be simplicity to use. Built for the World with a spirit Made in Italy. Shapes, materials, finishes, thechnologies, all joined by a constant thought: design and sound that enriched your quality of life..
Synthesis is set to release a new 25W A class integrated stereo amplifier ROMA96DC.
The sound is complete, airy, dynamic, lively, and incredibly musical. The purity of human voices and accuracy of instruments is breathtaking. Resolution, transparency and detailed sound are above and beyond that which one would expect from an amplifier. The Roma 96DC+ has USB «B» type, DSD 5,6MHz ,optical input and S/PDif. 32Bit resolution gives you a fantastic sound stage and beautiful sound reproduction. The Phono Stage combines exceptional sound quality and unique features.
---
Specifications
POWER STAGE (1 CH.)
2 X EL34/6CA7
INPUT STAGE (1 CH.)
1 X OPAMP JRC4580
DRIVER STAGE (1 CH.)
1 X ECC82/12AU7
INPUT IMPEDANCE
50KOhm
INPUT SENSITIVITY
350 mV for rated power
OUTPUT TAP
6 Ohm
CONFIGURATION
Push-Pull pentode
POWER OUTPUT
25W RMS @ 6Ohm
(1 ch., THD < 1%)
FREQUENCY RESPONSE
from 20Hz to 20KHz +-0.5dB
DISTORSION
1% @ 1KHz (MAX Power)
S/N RATIO
>90dB "A" weighted
INPUTS
3 line (Roma 96DC)
2 line (Roma 96DC+)
1 phono MM
DIGITAL INPUTS (96DC+)
1 USB "B" type Windows/Mac/iOs/Android
1 Toslink Optical
1 Coax S/PDIF
D/A CONVERTER
AK4495SEQ
32bit 768KHz
MAX RESOLUTION (96DC+)
24 bit 192KHz (OPTCoax)
32 bit 384KHz (USB)
DSD up to 5,6MHz (USB)
PC REQUIREMENTS(96DC+)
1GHz processor,512MB RAM, USB 2.0 port
DIMENSIONS (W,D,H)
260x415x200mm
WEIGHT
18Kg
LINE POWER
117 / 230 / 245 Vac, 50/60 Hz (see rear label)
FUSE
See rear label
POWER CONSUMPTION
200W max
BODY
Anodized black aluminium
TRANSMISSION TYPE
Infrared
PROTOCOL
RC5
FUNCTIONS
Volume, mute, input selection, st-by
BATTERIES
2 x CR2032
WEIGHT
200g